You're reading CX Stories, a newsletter about customer experience innovation. If you want to join the 1000+ lovely people who receive it every month, just enter your email address below.
Processing…
Success! You're on the list.
Whoops! There was an error and we couldn't process your subscription. Please reload the page and try again.
Processing…
Success! You're on the list.
Whoops! There was an error and we couldn't process your subscription. Please reload the page and try again.
'To the passengers waiting for your luggage at carousel number four, it's delayed because of…some shortages. Your bags will be with you… soon'
After 30 minutes of waiting and this less than helpful message, I wander – a child in each hand for sympathetic effect – to the BA helpdesk.
'How long do you think it will be?'
'Oooo, when the bags get lost, it's usually around 60-90 minutes. Yep, it says here (wild gesture at screen), probably at least an hour from now'
I returned to the carousel and broke the news to the large group of angry, tired passengers. A doomsday messenger, but a hero for having found out what was going on.
Five seconds later the carousel whirred into life, the bags appeared and everyone looked at me like I was an idiot.
In my last article, I wrote about the need for companies to have more ambition with their customer experience and used a recent webchat / web-ghosting by BA as an example.
And on the way to and from an (otherwise fabulous) holiday, the UK's flag-carrying airline gave a few interesting examples of the importance of good customer communication.
It started with their messages about uploading Covid travel documents. The first email was useful. I followed the link, easily uploaded the forms, and received this clear and helpful confirmation (aside from their insistence on calling me 'Mrs').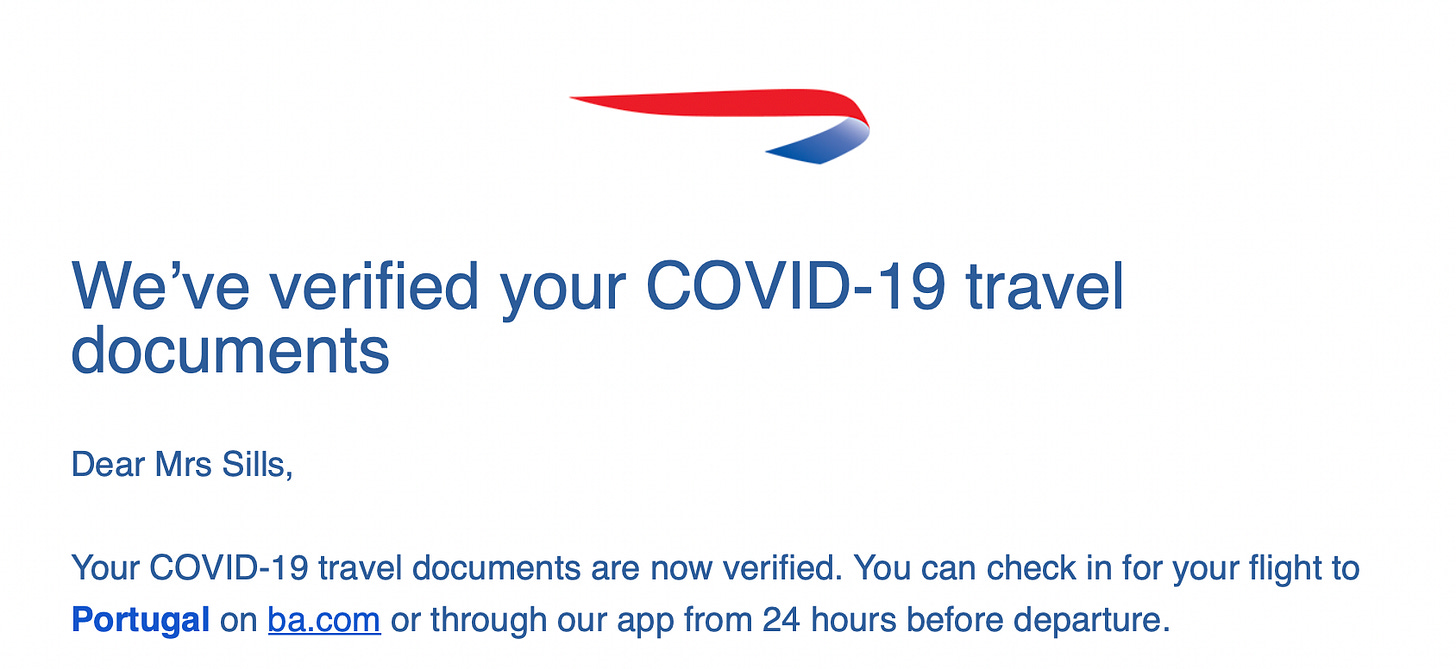 However, this good work was undone when, a day before the flight, I received this text: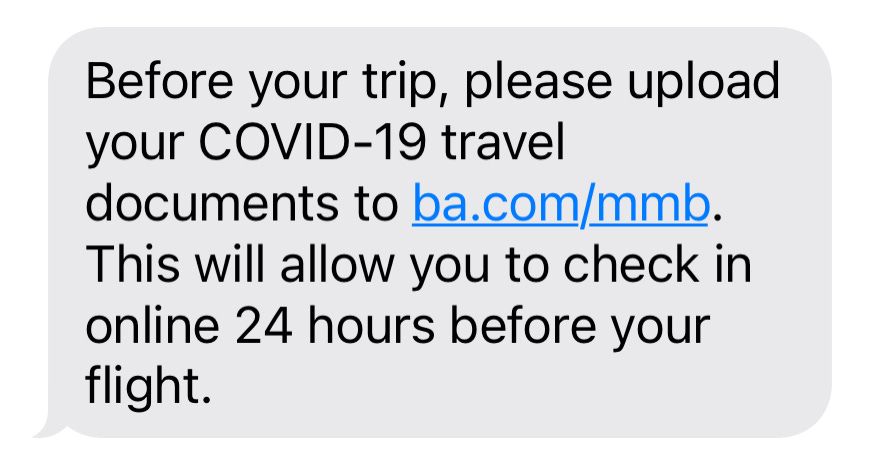 Followed by this email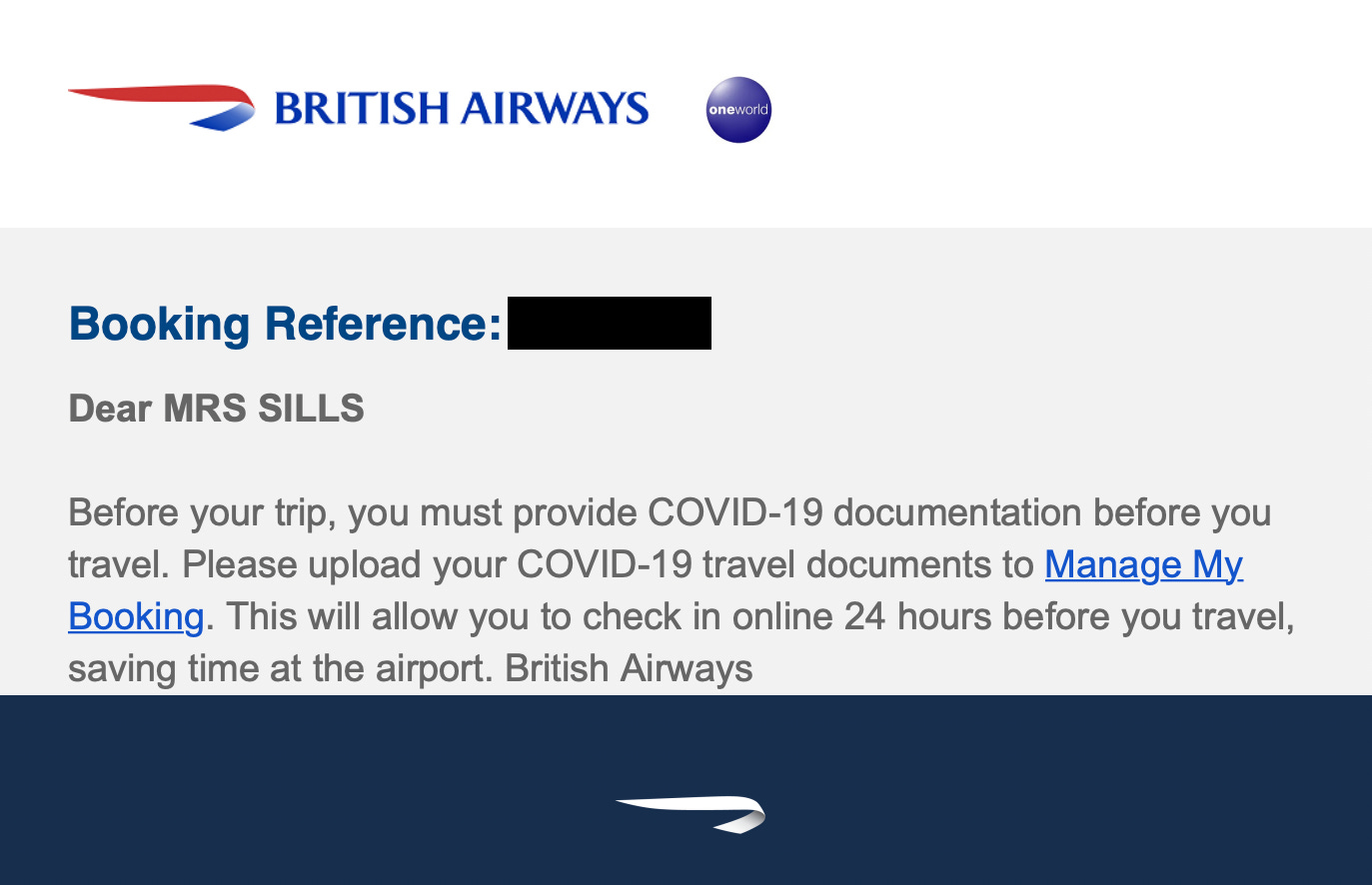 Cue frantic rechecking and reuploading of travel documents, my smug pre-travel 'I've sorted it all' out of the window as I try to work out what's gone wrong.
What's gone wrong, it turns out, is BA sending a blanket text and email to all passengers, regardless of if they've uploaded the documents or not (and no comforting 'ignore this message if you've already had the confirmation' line).
Good intentions, badly executed.
---
Despite the Twitter-based scaremongering, the airport experience was wonderful. Ten minutes from taxi drop off to Toblerone purchase, seats in a restaurant for an unnecessarily big breakfast, aeroplane on time and ready to fly.
At least, it was wonderful right up until the last moment.
Sat in the departure gate, whilst my family popped for a pre-flight toilet stop, just minutes before boarding the plane: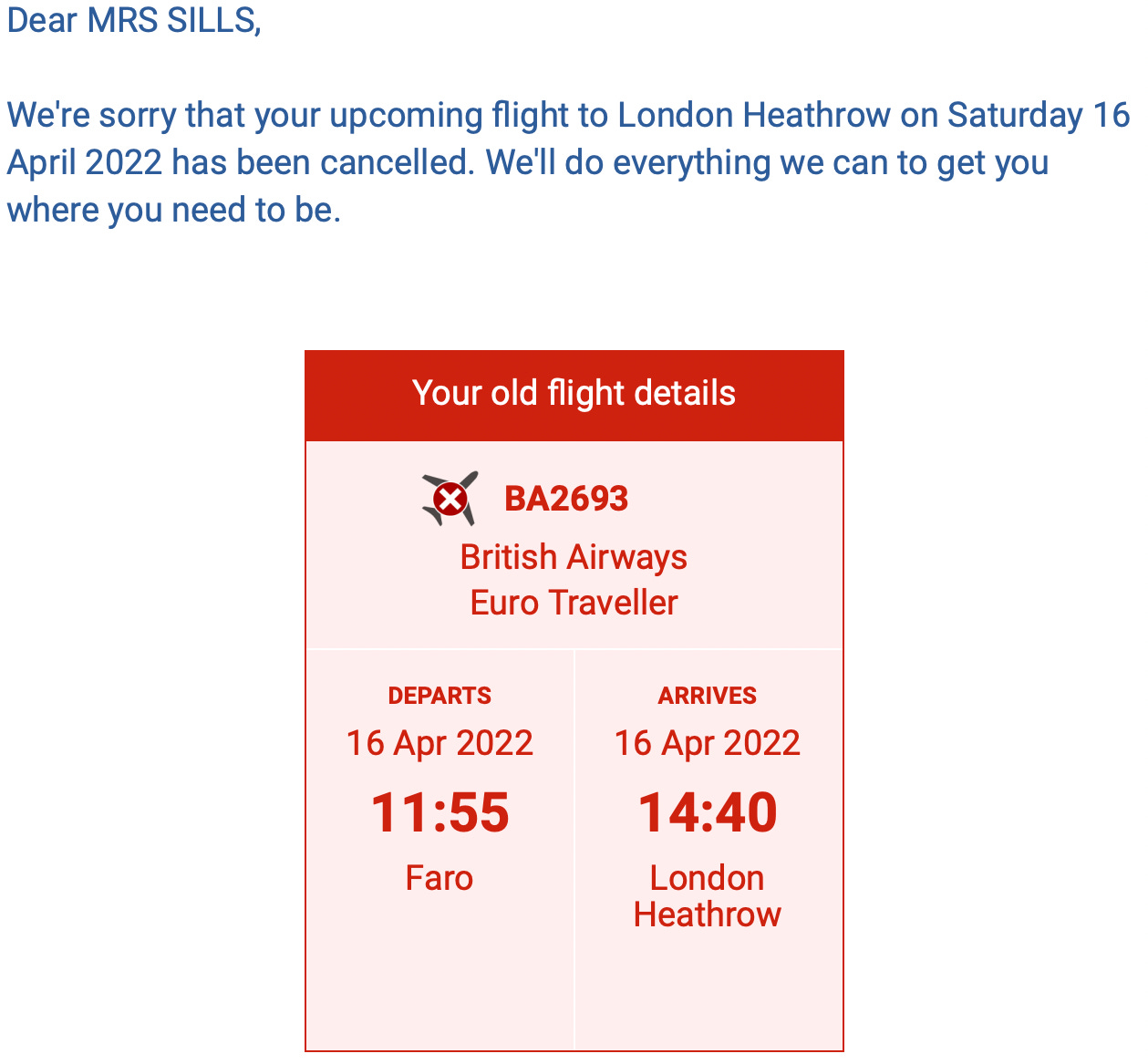 Timing is everything, as they say.
What better news to hear JUST AS YOU'RE STEPPING ON THE PLANE than hearing the return flight has been cancelled.
I started composing an angry email to the travel agent, asking them to sort it out, that our holiday was going to be ruined, that I wanted some compensation… and then I thought, maybe I should just click the link.
Within three clicks – and before my family had got back to their seats – the new flight was booked.
This is a brilliant experience and one which BA should be commended for. But extra detail in the email – such as a suggested flight, or a 'rebooking usually only takes three clicks' message in the email – would have saved me a suspected coronary.
---
There are lots of lessons that could be taken from this particular CX Story: The importance of setting expectations; the importance of only sending customers information that's relevant to them; the importance of doing the work for customers to fix something that's gone wrong.
However, the thread that runs throughout all of these examples is the need to create certainty, a topic which I was serendipitously reading about on the flight home, in a piece from Wharton on 'How Language Boosts Customer Satisfaction':
When talking to customers, though, employees tend to use language that is pretty abstract. A customer service agent whom you ask for help in a store could say, "Hey, I'll go look for that. I'll go look for that top. Or I'll go look for that T-shirt in gray." Someone responding to an inquiry about a delivery, "When will my package arrive?" The customer service agent could say, "It'll arrive there soon." They could say, "It will arrive at your place. It will arrive at your door."
For BA, a few small, simple tweaks would have saved a lot of headaches and heart palpitations:
Adding 'ignore this message if you've already uploaded your documents and received verification' on the Covid text message.
Adding 'Here's a replacement flight you can book onto in just three clicks' on the email about the return flight cancellation (or even pre-booking me a spot on the earlier flight which can be cancelled if needed)
Adding 'Our current estimated waiting time for your bags is x minutes, and we'll update you every five minutes
In fact, the answer to BA's communication issues is sat in their cockpits. Their pilots are experts at it. At regular intervals during our flight, we knew the exact height, estimated time of arrival, and weather at our destination, along with the sights, sounds, and seas we passed along the way.
So when communicating with customers, it's good to create as much certainty as possible – and ideally, don't leave them to be chased out of the airport by an incensed and angry mob.
Thanks for reading this article, I really hope you enjoyed it. You can subscribe to my monthly newsletter below, and find me in tweet form @johnjsills, in picture form on Instagram @CX_Stories, or in work mode at The Foundation
Processing…
Success! You're on the list.
Whoops! There was an error and we couldn't process your subscription. Please reload the page and try again.